AQUAKING™ Self-Sinking Anti-Flotation Aeration System Tubing
Profile:
Self-sinking without extra weights (lead free)
Manufactured from specially formulated polyvinyl chloride
Available in a variety of sizes (3/8″ to 1-1/2″ I.D. on a custom order basis)
Applications:
Manufactured for pumping compressed air into ponds, lagoons or lake beds
Used with electric aeration systems
Used with windmill systems
Used with other types of aeration systems
Colors: Black only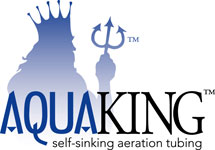 The AQUAKING™ Series, a unique self-sinking tubing for aeration systems, is manufactured to deliver air into a pond, lagoon or lake bed from an electric aerator, windmill or other types of aeration systems. AQUAKING™ is a registered trademark of Kentak Products Company.
The rising air bubbles from an aeration system, using the AQUAKING™ Self-Sinking Bottom-Feeder Tubing, adds life-giving oxygen to the water and creates an essential circulation pattern. The result is healthier fish, reduced algae growth, fewer dissolved toxic gasses, less odor and elimination of stagnation.
AQUAKING™ Self-Sinking Tubing is constructed of heavy, negative-buoyancy, polyvinyl chloride (PVC) material. AQUAKING™ tubing descends to the bottom of the pond, lagoon or lake without the use of extra weights.